Our Veggie and Wild Rice Soup Recipe is sure to be an instant favorite. Not only is it packed with warm and comforting flavors from our Fit To Be Thai'd spice blend, but the addition of creamy coconut milk takes this dish over the top. Perfect for a cozy meal or as a savory side during a dinner party, this one-pot dinner comes together quickly and impressively. It's all you need to stay warm and satisfied until spring arrives!
Why Thai Spice?
Our Fit To Be Thai'd Spice Blend brings out the warm and mild flavor of vegetables and grains. Plus, not only are Thai spices known for their complex flavors, but they're also high in beneficial nutrients like vitamin A and B-complex vitamins. With all the added herbs and veggies, you get a powerhouse of antioxidants, vitamins, and minerals to keep you healthy all winter long.
Vegetables
This veggie and wild rice soup recipe is loaded with a variety of vegetables for color and flavor. You can use fresh or frozen potatoes, carrots, celery, onions, garlic, mushrooms and even kale or spinach if desired! Not only do these veggies add flavor, but also a variety of essential vitamins and minerals.
Wild Rice
The wild rice in this soup adds texture and a nutty flavor that pairs perfectly with our Thai Spice Blend. Wild rice is a great source of plant-based protein, fiber, vitamin B6, zinc and magnesium. It's also gluten-free and a great way to add bulk to your soup.
Coconut Milk
The coconut milk in this soup adds richness, flavor, and creaminess without adding too many calories or fat. Coconut milk is also a great source of healthy fats that can help keep you full for longer. Plus, it's dairy-free and vegan friendly!
In the end, this veggie and wild rice soup is sure to be an instant classic. Not only does it come together quickly and easily, but it also offers a unique flavor that's both comforting and tasty. So grab some of our Fit To Be Thai'd spice, veggies, wild rice and coconut milk to get started on this flavorful and healthy soup. You'll be glad you did! Enjoy!
Happy Cooking!
Print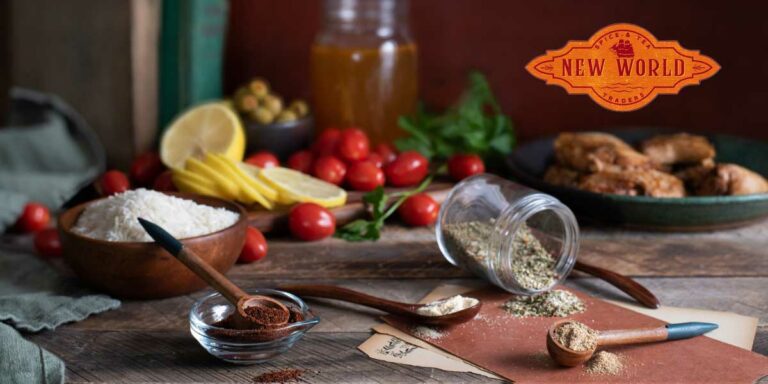 Veggie and Wild Rice Soup Recipe
Total Time:

1 hour 5 minutes
6 Cups Vegetable Stock

1 Cup Wild Rice

8 oz Baby Bella Mushrooms, sliced

4 Cloves Garlic, minced

2 Medium Carrots, diced

2 Ribs Celery, diced

1 lb Sweet Potato, peeled and diced

1 Small White Onion, peeled and diced

1 Bay Leas

1 1/2 TBS Fit To Be Thai's Spice

1 14-oz Can Unsweetened Coconut Milk

2 Large Handfuls of Kale, rough chopped and stems removed

Kosher Salt and Fresh Cracked Pepper to taste
Instructions
In a large Dutch Oven, heat 1 tbsp olive oil on medium-high. Saut

é

the veggies.
Heat another tablespoon olive oil in a large stockpot over medium-high heat. Add onion and saut

é

for 5 minutes, stirring occasionally, until soft and translucent.
Stir in the garlic and cook for an additional 1-2 minutes, stirring occasionally, until fragrant.
Add in the vegetable stock, wild rice, mushrooms, carrots, celery, sweet potato, Bay Leaf, and Thai Spice. Stir to combine.
Continue cooking until the soup reaches a simmer. Then reduce heat to medium-low, cover and simmer for 30 to 40 minutes until the rice is tender, stirring occasionally.
Add the coconut milk and kale to the soup, and stir gently until combined. Taste and season with salt and pepper (plus any extra Fit To Be Thai'd Spice Mix

if needed).
Prep Time:

20

Cook Time:

45

Category:

Soups
Keywords: Fit To Be Thai'd Spice Mix, Thai, Wild Rice Soup