German Potato Salad is a delightful variation of the classic potato salad that you've probably come across in your culinary adventures. Stepping away from the creamy mayonnaise-based dressing, the German version brings a tangy twist to the table. Add New World Spice and Tea Traders Zipp Zapp Zopp spice blend and Grizzly Herb Blend to the mix and you have a dish that pleases all the tastebuds. Intrigued? Let's get started! 
A Tangy Twist on Traditional Potato Salads
Unlike its mayo-heavy counterparts, German Potato Salad boasts a vinaigrette-style dressing that marries the robust flavors of vinegar, bacon and herbs. This combination creates a palate-tingling tanginess that elevates the overall taste experience. The absence of creamy elements allows the individual flavors of the ingredients to shine through, giving the salad a unique identity.
The Perfect Blend of Flavors
One of the secrets behind the our German Potato Salad Recipe lies in the careful selection of herbs and spices. New World Spice and Tea Traders Grizzly Herb Blend and Zipp Zapp Zopp Herb Blend play a crucial role in enhancing the flavors and taking the salad to new heights. The two blend's intriguing combination of zesty and spicy elements not only stimulates your senses but also brings a contemporary flair to this traditional dish.
Our German Potato Salad Recipe with its tangy vinaigrette, enhanced by the Grizzly Herb Blend and Zipp Zapp Zopp Herb Blend, is a culinary masterpiece that takes your taste buds on an unforgettable journey.
The careful selection of herbs and spices creates a harmonious symphony of flavors, elevating the dish to new heights of taste and authenticity. So, the next time you're craving a potato salad that's out of the ordinary, look no further than the delightful combination of German flavors and these two extraordinary herb blends.
Print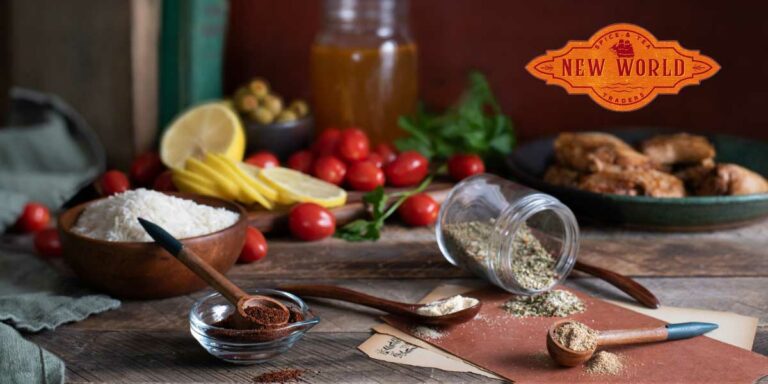 German Potato Salad Recipe
3 Cups Peeled Potatoes, diced (We recommend using a waxy variety such as New Potato, Yukon Gold, or Red Potatoes)

4 Slices Bacon, thick cut sliced in ¼" pieces

1 Small Onion, diced

¼ Cup White Balsamic

2 TBS Water

1 TBS White Sugar, or more to taste

1 tsp Zipp Zapp Zopp Herb Blend

2 TBS Grizzly Herb Blend

1/4 tsp Ground Black Pepper

1 TBS Fresh Parsley, chopped
Instructions
Place potatoes in a large pot and add water to cover by at least 1 to 2 inches; bring to a boil. Cook until potatoes are easily pierced with a fork, about 10 minutes. Drain, and set aside to cool.
While the potatoes are cooking, place bacon in a large, deep skillet over medium-high heat. Fry until browned and crisp, 10 to 12 minutes, turning as needed. Transfer bacon to a paper towel-lined plate and crumble when cool enough to handle. Leave bacon grease in the skillet.
Cook onion in the bacon grease over medium heat until browned, 6 to 8 minutes. Add vinegar, sugar, water, salt, Zipp Zapp Zopp Herb Blend, Grizzly Herb Blend, and Ground Black Pepper to the pan and bring to a boil.
Once boiling, add potatoes, and 1/2 of the crumbled bacon. Cook until heated through, 3 to 4 minutes.
Transfer warm potato salad to a serving dish and sprinkle remaining bacon over top. Garnish with parsley. Serve immediately.