Thanksgiving brings to mind images of a bountiful feast, where traditional dishes take center stage. Among these classics, the Sweet Potato Casserole stands out as a must-have on the holiday table. Its rich, warm flavors and inviting aroma make it a favorite that's as eagerly anticipated as the turkey itself.
One of the remarkable aspects of sweet potatoes is their versatility. They seamlessly transition from savory to sweet dishes, making them an essential ingredient for a variety of culinary creations. In the Sweet Potato Casserole, their natural sweetness and creamy texture are enhanced, making it a delightful pairing for your Thanksgiving meal.
The Warmth of Pumpkin Spice
At the heart of this delightful casserole is the Pumpkin Spice Blend seasoning. This unique blend is a symphony of autumnal flavors, featuring cinnamon, nutmeg, ginger, and cloves. It's a fragrant combination that evokes the warmth and coziness of the season, making it the perfect addition to your Thanksgiving dishes.
Perfectly Complementing Sweet Potatoes
Pumpkin Spice Blend and sweet potatoes are a match made in culinary heaven. The warm, aromatic notes of the spice blend perfectly complement the natural sweetness of the sweet potatoes. Together, they create a harmonious balance of flavors that's both comforting and inviting, making this casserole an essential component of your Thanksgiving feast.
The Sweet Potato Casserole with Pumpkin Spice Blend seasoning is a culinary masterpiece that epitomizes the spirit of Thanksgiving. It brings together the warmth and tradition of classic dishes with the creativity and flair of modern cooking. With its delightful combination of sweet potatoes and the fragrant notes of Pumpkin Spice Blend, it's a must-have for your Thanksgiving feast, creating a sense of home and nostalgia while embracing the excitement of the season.
Print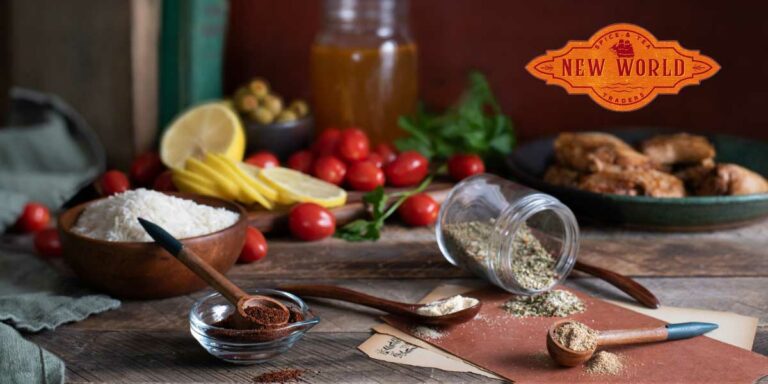 Sweet Potato Casserole Recipe
Sweet Potatoes
4 lbs. Sweet Potatoes, peeled and cut into 1" pieces

4 tsp butter, unsalted (1/2 stick)

3/4 Cup Packed Light Brown Sugar

1/2 Cup Heavy Cream

1 tsp Kosher Salt

1 TBS Pure Vanilla Extract

1 tsp Ground Vietnamese Cinnamon

1 tsp Pumpkin Spice Blend

Topping
2 Cups Mini Marshmallows

1/2 Cup All-Purpose Flour

4 tsp butter, unsalted

6 tsp Packed Light Brown Sugar

1/4 Cup Old Fashioned Rolled Oats, not instant oats

1 tsp Pumpkin Spice Blend
Instructions
Preheat the oven to 350°F. Grease an 8"x10" casserole dish (8×8 or 9×9 works too).
Fill a large pot with sweet potato pieces and enough water to cover by 2 inches. Bring to a boil over high heat and cook until fork tender, about 10 minutes.
Drain water from potatoes and return potatoes to the pot. Using a potato masher or electric mixer, mash until mostly smooth. Add remaining ingredients (except topping ingredients and mix until combined.
Spoon sweet potatoes into the casserole dish and use the back of a wooden spoon or mixing spatula to smooth out. Sprinkle marshmallows over top of mashed sweet potatoes.
Add butter to a medium sized microwave safe bowl. Microwave on full power to melt the butter. Add remaining topping ingredients to the bowl and use a fork to combine. Sprinkle over the top of casserole.
Place the casserole in the preheated oven and bake for 20-25 minutes, or until the streusel is crisp and marshmallows are golden brown.