Get ready for the fireworks! Our Fireworks Splash Salad is perfect for Fourth of July family celebrations. Simple and easy, you can prepare all the ingredients in advance and compose the salad just before party time! The lightness, the symphony of flavors, and the burst of colors make this salad as a feast for both the eyes and the palate.
Celebrating the Diversity of Mixed Greens with Fresh Fruit
Incorporating a variety of greens is essential in creating a tantalizing salad. Ranging from delicate baby spinach to peppery arugula and crisp romaine, the assortment of flavors and textures will excite your taste buds. Embrace the verdant palette of mixed greens and allow their subtle bitterness and earthy notes to mingle with the sweet fruit and homemade vinaigrette.
As summer unfolds, it brings forth an abundance of strawberries and blueberries that embody the essence of the season. The fresh fruit add a burst of natural sweetness to your salad, elevating its taste to new heights. 
Striking the Perfect Balance in Dressing Selection
When it comes to dressing your summer salad, striking the right balance is key. A tasty vinaigrette, with its tangy acidity, complements the sweetness of the berries and the creaminess of the goat cheese.
When searching for a summer salad to please the masses look no further than New World Spice and Tea Traders' Fireworks Splash Salad. As you explore the bounty of fresh produce, the creaminess of goat cheese, and the irresistible crunch of walnuts, you'll find that every bite is a celebration of summer's finest flavors. The vinaigrette adds the final touch, transforming your salad into a culinary work of art. So, embrace the season and the ingredients it offers, and craft your perfect summer salad to savor and share with friends and family. Happy Independence Day!
Print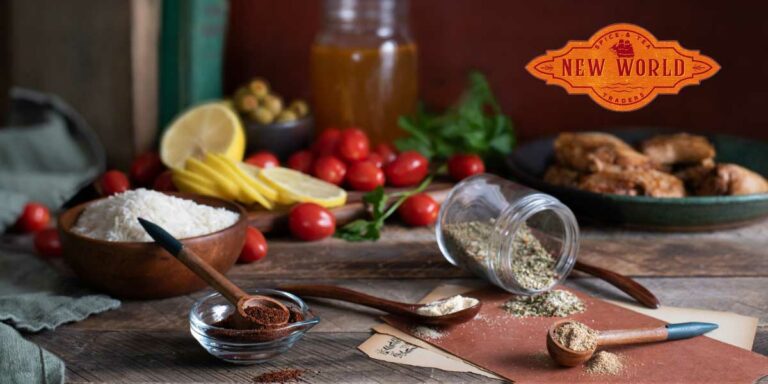 Fireworks Splash Salad Recipe
Vinaigrette
¾ Cup California Blend Extra Virgin Olive Oil

2 TBS Cask 8 Balsamic Vinegar

2 TBS Raspberry Balsamic Vinegar

1 TBS Honey

½ tsp Dijon Mustard

1/3 Cup Onion, finely minced

1 TBS Fresh Tarragon, minced

1 tsp of Citrus Rosemary Sea Salt

½ tsp Lime Pepper

Salad Fixings
Mixed Greens

Fresh Strawberries

Fresh Blueberries

Goat Cheese, crumbled

Chopped Walnuts or Chopped Pecans

Fresh Fennel, thinly sliced

Red Onion, thinly sliced
Instructions
Combine vinaigrette ingredients in a glass bowl and whisk them together, adding the oil last in a slow drizzle until fully combined. Let stand at room temperature for 5- 20 minutes to let the flavors blend.
While the vinaigrette is marinating, carefully wash and dry the greens and fresh fruit. Place into salad bowl.
Crumble the goat cheese and add to the salad mix. Add the chop nuts and add the thinly sliced red onion and fennel.
You can either prepare this as a composed salad and drizzle dressing over each plated serving; or prepare the salad in a large bowl and serve the dressing on the side or add to the salad mix.