Today, we delve into the delightful realm of the Mediterranean Bean Salad. As always, you can be sure we're going to include a New World Spice & Tea Traders twist. Get ready to savor the richness of Grapefruit Balsamic Vinegar, the robustness of beans, the crunch of fresh vegetables, and the spice of our delicious herb blends.
Embracing the Mediterranean Cuisine
The Mediterranean diet has captured the hearts of food enthusiasts worldwide, and for good reason. It goes beyond a mere way of eating; it's a celebration of life, culture, and well-being. This diet is built on a foundation of fruits, vegetables, legumes, nuts, and healthy fats, with minimal red meat and a moderate intake of dairy. The result is a well-balanced and heart-healthy approach to food that is both delectable and nutritious.
A Symphony of Fresh and Wholesome Ingredients
The Mediterranean Bean Salad brings together a colorful ensemble of ingredients that harmonize beautifully to create a scrumptious and nourishing dish. Picture a medley of tender beans, such as chickpeas and kidney beans mingling with the freshness of cucumbers, celery, and briny olives. It's a tantalizing array of textures and tastes that will leave your taste buds rejoicing.
The Zesty Twist
No culinary adventure is complete without a touch of creativity and innovation. Get ready to elevate the Mediterranean Bean Salad to new heights with the enchanting Grapefruit Balsamic Vinegar dressing—a zesty twist that will awaken your taste buds and add a burst of vibrant flavor to the dish.
Balsamic vinegar is no stranger to Mediterranean cuisine. Its dark, velvety texture and rich, complex flavor have long been cherished by chefs and home cooks alike. But what sets the Grapefruit Balsamic Vinegar apart is the addition of a citrusy twist—a stroke of genius that brings a new dimension to this beloved ingredient. Add New World Spice & Tea Traders Zesty Italian Herb Blend and Santorini Herb Blend to this dressing mix and you have a truly unique and delicious salad.
So, gather your ingredients, embark on this culinary journey, and let the Mediterranean flavors whisk you away to a world of delectable goodness. Bon appétit!
Print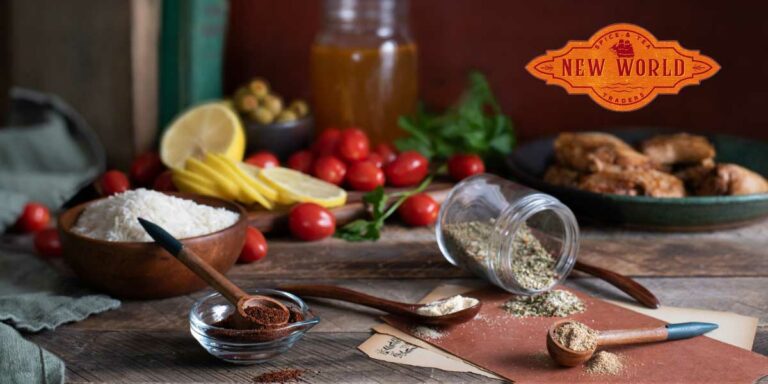 Mediterranean Bean Salad Recipe
1 15oz Can Garbanzo Beans, rinsed

1 15oz Can Kidney Beans, rinsed

1/4 Cup Red Onion, chopped fine

3/4 Cup Celery, chopped

1 Small Cucumber, peeled seeded and chopped

3/4 Cup Fresh Italian Parsley, chopped

1/4 Cup Fresh Basil, chopped

2 Tomatoes, chopped fine

1/4 Cup Parmesan Cheese, finely grated

1/2 Cup Kalamata Olives, sliced

1/3 Cup Pepperoncini, chopped

For the Dressing
1/2 Cup Lemon Olive Oil

Juice of 1 Lemon

Zest of 1 Lemon

¼ Grapefruit Balsamic Vinegar

1 Clove Garlic, peeled and minced

½ TBS Zesty Italian Herb Blend

½ tsp Santorini Herb Blend

Ground Pepper and Sea Salt to taste
Instructions
Chop all indicated ingredients in the salad to a fine ¼" dice. Combine all in a large bowl and toss lightly.
Add all ingredients for the dressing and whisk until thoroughly combined. Add dressing to salad and mix well until the dressing completely coats the salad.
Chill for at least 4 hours or overnight.