Welcome to grilling season! After months of indoor hibernation, the warmer weather has finally arrived, and that calls for firing up the grill! What better way to celebrate this special time than by learning how to make a delicious Brown Sugar Pineapple Chicken dish? To make your life easier, we've figured out how to use Carne Asada Seasoning from New World Spice and Tea Traders as an all-in-one flavor booster. So dads (or anyone!) don't worry – you won't have to spend any energy rummaging through endless spice racks or taste testing complex flavor combinations; this recipe will provide the perfect balance of sweet and savory with just a pinch of heat. Get ready for summer fun – let's get started on that chicken!
Carne Asada Seasoning is typically used for grilling steak, but its flavor is versatile enough to make it perfect for marinating chicken or other meats. Our Carne Asada Seasoning is composed of Chili Pepper, Garlic, Onion, and a plethora of other delicious spices and while it can add a zesty blend to lend a Mexican flair to your favorite steak dish, it's totally versatile! The light citrus flavor will lift the spices and char of any of your favorite proteins or veggies.
Our Brown Sugar Pineapple Chicken recipe is the perfect blend of subtle sweetness, smoky heat, and tanginess. The brown sugar gives the chicken an extra layer of flavor by adding a hint of caramelized sweetness, while the pineapple juice helps to tenderize the meat and keep it juicy. To round out the flavor, New World Spice and Tea Traders Carne Asada Seasoning adds a zesty kick – just the right amount of heat to keep your taste buds guessing.
So what are you waiting for? Get ready to fire up the grill, gather your ingredients, and make a delicious dinner that will win you total "dad points."
Happy Grilling!
Print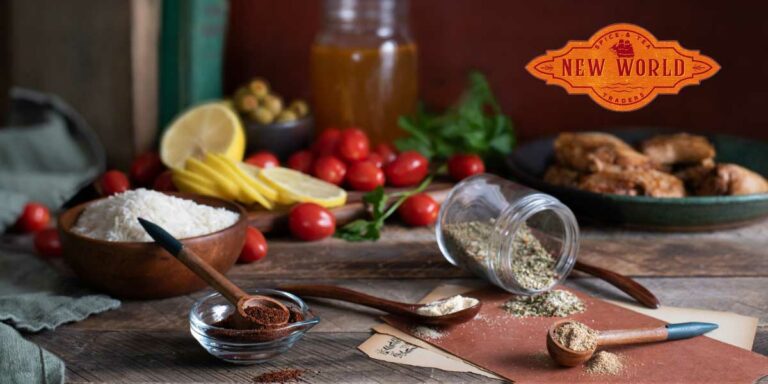 Brown Sugar Pineapple Chicken Recipe
2 lbs Chicken Tenderloins or Boneless Skinless Chicken Breasts, pounded thin

1/4 Cup Olive Oil

2 tsp Cornstarch

Chicken Marinade/Glaze:
1 Cup Canned Pineapple Juice

1/3 Cup + 1 TBS Brown Sugar, lightly packed

2 TBS Lemon Juice

2 TBS Ketchup

2 TBS Red Wine Vinegar

1 TBS Low Sodium Soy Sauce

1 TBS Dijon Mustard

2 TBS Carne Asada Spice Blend
Instructions
Whisk the Marinade/Glaze ingredients together in a medium bowl.
Add 1/3 cup to a large freezer bag and whisk in 1/4 cup olive oil.
Add the chicken and marinate 2-4 hours in the refrigerator. Refrigerate reserved the glaze separately.
When ready to grill, let the chicken sit at room temperature for 15 to 30 minutes.
Meanwhile, grease and preheat grill to medium heat, 375 to 450°F.
Drain chicken from the marinade and pat dry.
Grill the chicken undisturbed for 5 to 6 minutes per side, or until chicken is cooked through. (An inserted thermometer should read 165 degrees F when chicken is done.)
Meanwhile, add reserved glaze to a small saucepan and whisk in 2 teaspoons cornstarch.
Place covered saucepan on the grill (or stove) and bring to a simmer (this can be done after the chicken is cooked if you don't have room on your grill).
Once simmering, remove lid and whisk until thickened.
Brush cooked chicken with glaze and serve any extra as a sauce for rice.
Garnish chicken with orange zest and green onions (optional).