The holiday season is upon us, and what better way to grace your dinner table than with a succulent, perfectly honey-glazed ham? In this recipe, we're not just diving into the details of a remarkable recipe; we're uncovering the secrets of infusing your ham with unforgettable flavors. Get ready to embark on a culinary adventure as we explore the world of Grizzly Herb Rub, Zipp Zapp Zopp, and Yin and Yang's Chinese 5 Spice Powder.
Exploring the Unique Ingredients
Grizzly Herb Rub, with its intriguing name, is the first player in our flavor ensemble. This extraordinary blend comprises a symphony of herbs and spices that add depth and complexity to your ham. From onion and garlic to red bell pepper and green bell pepper, each vegetable brings its own distinctive note to the table.
Unraveling the Intriguing Blend
Now, let's venture into the mystique of Zipp Zapp Zopp. This spice blend takes your honey-glazed ham to a whole new level of excitement. Comprising a blend of secret spices and seasonings, Zipp Zapp Zopp adds a tantalizing air of mystery to your dish. A hint of heat, a touch of sweetness, and a whisper of earthiness – these are the elements that Zipp Zapp Zopp brings to your honey-glazed ham.
The Essence of Chinese 5 Spice
Yin & Yang's Chinese 5 Spice Powder is a treasure trove of Eastern flavors. Comprising star anise, cloves, Chinese cinnamon, Sichuan peppercorns, and fennel seeds, it encapsulates the essence of Chinese cuisine in a single blend. The warm, aromatic, and slightly sweet notes of this spice blend blend harmoniously with the honey glaze, creating a fusion of flavors that's nothing short of extraordinary.
Now comes the moment of truth – glazing and baking your ham. The secret is to brush the ham generously with your honey glaze and let it caramelize in the oven. As it bakes, your kitchen will fill with aromas that are nothing short of enchanting. The sugars in the glaze will create a luscious, shiny coat over the ham, and the flavors of Grizzly Herb Rub, Zipp Zapp Zopp, and Chinese 5 Spice Powder will meld into a taste sensation.
Your holiday dinner will never be the same after you've introduced your guests to the magic of a honey-glazed ham infused with Grizzly Herb Rub, Zipp Zapp Zopp spice blend, and Yin and Yang's Chinese 5 Spice Powder. It's not just a meal; it's an experience that will be talked about for years to come. So, this holiday season, elevate your culinary skills and create a masterpiece that will leave a lasting impression on your loved ones.
Print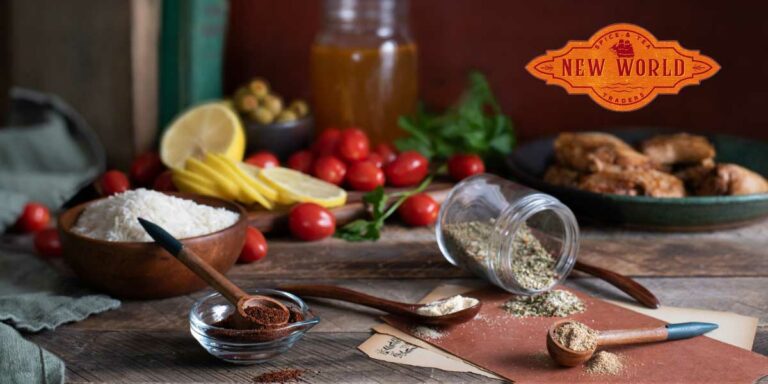 Instructions
Trim ham if needed, then place in slow cooker. Combine melted butter, Grizzly Herb, and honey, then massage over ham, getting in between the slices a little. Cover and cook on LOW 4-5 hours.
At the end of the cooking time, preheat broiler to HIGH, and line a roasting pan with heavy duty aluminum foil.
Combine sugar, Zipp Zapp Zopp, Yin and Yang's Chinese 5 Spice Powder, and paprika in a small bowl. Pat half of the sugar mixture over the top of the ham.
Broil for several minutes, until bubbly and caramelized, then remove from oven.
To a small saucepan, add remaining sugar mixture. Add 3 Tbsp of ham juices from bottom of the slow cooker, and bourbon or rum. Stir, and heat to a boil. Boil for about a minute, then remove from heat.
Brush or pour glaze over the ham, then broil again for a minute or two (be careful… don't let it burn!). Remove from oven and let ham rest for 5-10 minutes.
Serve warm or cold and enjoy!