Our Polynesian Huli Huli Chicken Recipe is a mouthwatering dish that has its origins in the vibrant culinary traditions of Hawaii. With its unique blend of flavors and tender, juicy chicken thighs, this dish has gained popularity not only on the tropical islands but also in our own backyard.
What's Huli Huli Chicken?
Huli Huli chicken was first introduced to the world by Ernest Morgado, a Hawaiian businessman, in the 1950s. The name "Huli Huli" itself stems from the Hawaiian word "huli," meaning "turn." Morgado invented a unique grilling technique that involved continuously flipping the chicken on a grill while basting it with a delectable marinade. This method allowed the chicken to cook evenly while retaining its succulent flavors.
Huli Huli chicken is deeply intertwined with the culture and heritage of Hawaii. It has become a beloved dish at community gatherings, festivals, and luaus, where it serves as a centerpiece of celebration. The aroma of the grilling chicken wafting through the air evokes a sense of togetherness and joy, bringing people from all walks of life together to savor its deliciousness.
Our Huli Huli Chicken Recipe
Because of the love of Polynesian food styles, we developed the easiest way to mix up the marinade used for this recipe, our Polynesian Luau Chicken Spice Blend. Easy peasy. No needing a plethora of Polynesian pantry staples on hand for our Huli Huli Chicken.
Print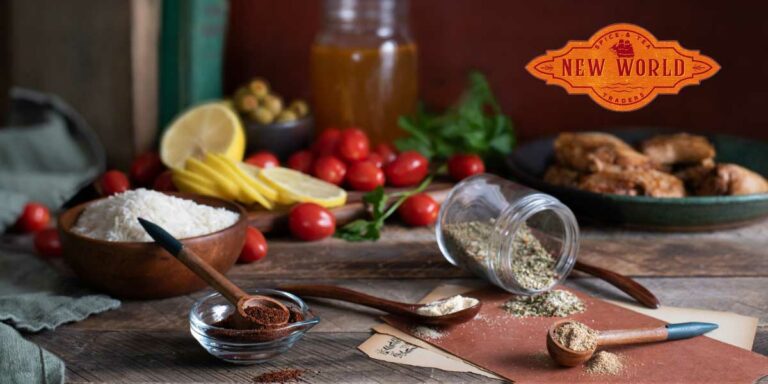 Luau Huli Huli Chicken Recipe
2 lbs Boneless Chicken Thighs

4 TBS Polynesian Luau Chicken Seasoning (divided)

1/2 Cup Ketchup

1 Cup canned Pineapple Chunks juice retained (do not use fresh, it will over tenderize the meat)

2 TBS Honey Ginger Balsamic Vinegar

Onion, sliced into 2" pieces (optional)

Green Pepper, sliced into 2" pieces (optional)
Instructions
Combine 2 TBS Polynesian Luau Chicken Seasoning and chicken thighs in sealed container. Mix well to completely coat chicken. Refrigerate for a total of 4 – 6 hours.
Combine remaining ingredients into a bowl.
2 hours before grilling, add sauce to chicken and thoroughly mix. Place back in refrigerator for remaining 2 hours.
Set up your grill for direct high heat. Gently shake off excess marinade
Place marinade into a basting pot or small sauce pan and bring to quick boil.
Grill each chicken thigh for 3 minutes on first side, turn and baste with sauce.  Cook thighs until internal temp of 165 degrees F is reached.  Turn and baste other side and set aside to rest.
Grill pineapple chunks until charred and slightly soft.  If using grill onions and peppers basting sauce as you grill.
Serve each thigh with pineapple, onions, and peppers and any extra sauce.