Green bean casserole, a beloved classic on dinner tables across the United States, is a dish that transcends generations. This iconic side dish has graced countless Thanksgiving feasts, potlucks, and family gatherings, becoming a staple in American culinary culture. While its roots are firmly planted in tradition, there's more to this dish than meets the eye. In this recipe, we'll embark on a flavorful journey through the world of green bean casserole, exploring its key ingredients and the role of the enigmatic Grizzly Herb Rub seasoning.
The Versatile Green Bean
At the heart of this dish lies the humble green bean. This unassuming vegetable, packed with nutrients and vibrant green hues, takes center stage in the casserole. Its crisp texture and earthy flavor provide the perfect contrast to the creamy elements of the dish.
Mushrooms: Nature's Umami Bombs
At the heart of the green bean casserole lies a key ingredient that is both intriguing and delightful – fresh mushrooms. These fungi, with their earthy aroma and savory umami flavor, bring an unmistakable depth to this classic dish.
Mushrooms are a treasure trove of unique compounds like glutamate and guanylate, which contribute to their umami taste. Umami, often described as the fifth taste, adds a savory, mouthwatering quality to dishes that is unmatched. Fresh mushrooms, with their umami-rich profile, are the secret to elevating the overall flavor of green bean casserole.
Crunchy Companions: Fried Onions
A layer of crispy fried onions crowns the green bean casserole, adding not only a delightful crunch but also a burst of savory goodness. These golden morsels not only contribute to the texture but also infuse a savory depth that elevates the dish to new heights.
The Secret Weapon: Grizzly Herb Rub Seasoning
Tucked away in this classic recipe is a secret weapon – Grizzly Herb Rub seasoning. While often overlooked, this blend of aromatic herbs and spices plays a pivotal role in enhancing the overall flavor profile of the casserole. Its unique combination of thyme, rosemary, and a hint of smokiness adds a layer of complexity that surprises the palate.
Beyond its culinary appeal, green bean casserole carries a sense of nostalgia and tradition. It evokes memories of family gatherings, laughter, and shared moments around the table. It's a reminder of the enduring bonds that food can create. In the world of side dishes, green bean casserole stands as a testament to the beauty of simplicity and tradition.
Print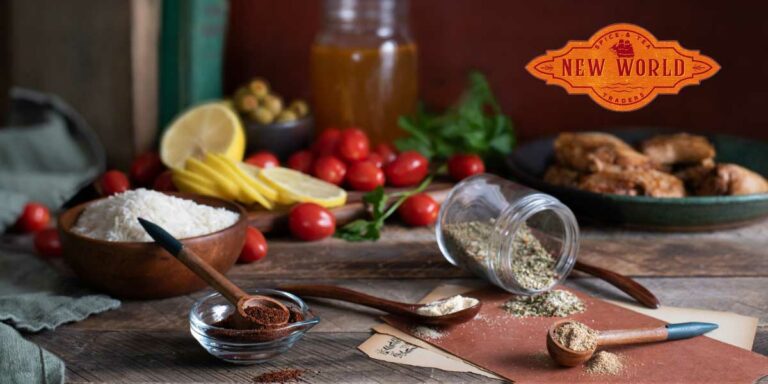 Green Bean Casserole Recipe
1 lb Green Beans, trimmed

2 TBS Butter

1 Large Onion, sliced

12 oz Mushrooms, sliced

1 1/2 tsp Kosher Salt, plus more to taste

1/4 tsp Black Pepper

2 Cloves Garlic, minced

1/4 tsp Ground Nutmeg

1 tsp Grizzly Herb Rub

1/4 Cup All-Purpose Flour

1 Cup Chicken Broth (or vegetable broth)

1 1/2 Cups Half and Half

1 1/2 Cups Fried Onions (about 4 1/2 oz)
Instructions
Bring a large pot of water to boil over high heat. Add green beans and cook until bright green, about 4-6 minutes depending on how crisp you want them. While the green beans are cooking, prepare an ice bath by filling a large bowl with some ice and water.
Transfer the cooked green beans quickly with a slotted spoon or tongs to the prepared ice bath. Set aside and let the green beans cool.
Preheat oven to 400°F. In a large ovenproof skillet over medium heat add butter. When melted, add onions, and cook until tender and translucent, about 5 minutes, stirring occasionally.
Add mushrooms and season with salt and pepper. Cook for 5 more minutes, stirring occasionally, until mushrooms have become tender and reduced in size.
Add garlic, Grizzly Herb Rub, and nutmeg and cook until fragrant, about 30 seconds.
Add flour and cook for 1 minute, stirring frequently, until the flour is well combined with the mushrooms and onions.
Add broth and stir to combine, making sure to scrape up any brown bits that are stuck to the bottom of the skillet. Cook for 2 minutes, stirring occasionally.
Reduce heat to low and add half and half. Stir together to combine, bring to a simmer, and simmer 10 minutes until the sauce has thickened. The sauce should generously coat the back of a spoon without sliding off.
Remove from heat. Drain the green beans from the water and add them to the skillet. Toss together with sauce until fully coated.
Top with fried onions and bake for 15 minutes. Serve immediately.