At New World Spice and Tea Traders, we take pride in bringing you the timeless comfort of Salisbury Steak. Our Salisbury Steak is more than just a meal; it's a savory journey back to the heartwarming flavors of days gone by.
Our Salisbury Steak is a culinary masterpiece with the finest ground beef and our Buckeye Onion Soup Mix that infuses each bite with rich, savory goodness. Crafted into tender, succulent patties, our Salisbury Steak captures the essence of traditional American comfort food.
Simmered to Perfection:
Each Salisbury Steak is lovingly simmered in a luscious, onion and mushroom gravy that's both hearty and indulgent. The tender patties soak up the flavors of the savory gravy, creating a symphony of tastes that will transport you to a world of culinary delight.
Perfect Pairings:
Served with a generous scoop of creamy mashed potatoes or rice and a side of vibrant, roasted vegetables, our Salisbury Steak is the epitome of a well-rounded meal. It's a harmonious combination of flavors and textures that will satisfy your cravings and leave your taste buds singing.
Your Salisbury Steak Experience:
When you choose New World Spice and Tea Traders for Salisbury Steak, you're choosing quality, flavor, and a taste of nostalgia. Whether you're enjoying it as a weeknight dinner or a special occasion treat, our Salisbury Steak is sure to please.
Join Us at New World Spice and Tea Traders:
Visit us at our store in Wadsworth, Ohio, and experience the comfort and joy of our Flavorful Blends firsthand. Our team is dedicated to providing you with the finest ingredients and a flavor experience that's second to none.
Explore our blog for cooking tips, recipe ideas, and more ways to enjoy Salisbury Steak and other culinary delights. Follow us on social media to stay updated on our latest offerings and special promotions.
Discover the classic, mouthwatering appeal of Salisbury Steak at New World Spice and Tea Traders, where every bite may not be 100% authentic but it is tasty.
Print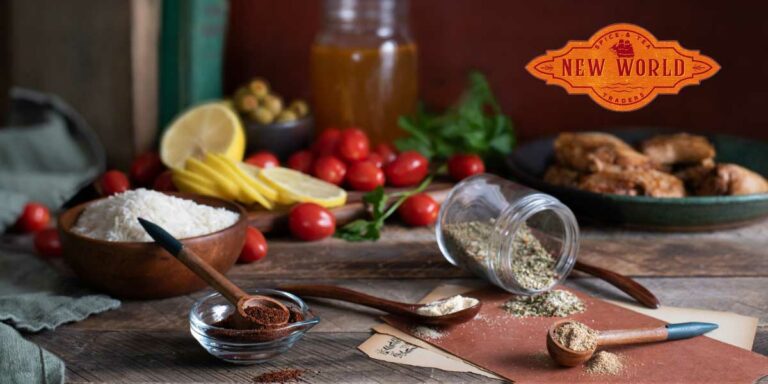 Steak Patties:
2 lbs of Ground Beef

1/2 Cup Breadcrumbs

1/4 Cup Onion, minced

1/4 Cup Milk

3 TBS Buckeye Onion Soup Mix

1 Egg

1 tsp Worcestershire Sauce

Salt and Pepper, to taste

For the Gravy:
2 TBS Rosemary-Infused Olive Oil

2 TBS Butter

1 Large Onion, sliced

13 TBS Buckeye Onion Soup Mix

3 TBS All-Purpose Flour

Salt and pepper, to taste

1 Cup of Sliced Mushrooms (optional)

2 Cups Beef Broth

1 Bottle of Stout Beer