Pork Loin, known for its tender and juicy character, is the star of our culinary show. Roasting it to perfection is the task at hand, and to elevate this endeavor, we will introduce you to Grizzly Herb Rub stuffing, Fig Balsamic Vinegar, and Yin & Yang's Chinese 5 Spice Powder.
The Art of Stuffing
Every culinary enthusiast knows that the art of stuffing can take a dish from ordinary to extraordinary. It's a canvas for culinary creativity, and in our case, the Grizzly Herb Rub plays a central role in this artistic endeavor.
With the Grizzly Herb Rub as our star ingredient, the stuffing becomes a flavor-packed center of attention. It's a journey into the heart of your dish, creating layers of flavors that complement the roasted Pork Loin and the Balsamic Fig Sauce.
Fig Balsamic Vinegar: A Culinary Gem
In our quest for perfection, we discover a jewel – Fig Balsamic Vinegar. This exquisite elixir marries the sweetness of figs with the tang of balsamic vinegar, creating a harmonious flavor profile that complements our roast.
Fig Balsamic Vinegar is a revelation, enriching your dish with depth and balance. Its sweet and tart undertones provide the perfect contrast to the savory nature of roasted pork loin. A drizzle of this gem over your finished creation can transform a simple dish into a culinary work of art.
Yin & Yang's Chinese 5 Spice Powder
Continuing our journey, we encounter Yin & Yang's Chinese 5 Spice Powder, a blend deeply rooted in the essence of Chinese cuisine. This complex mixture combines the five fundamental flavors: sweet, sour, bitter, savory, and salty, harmonizing them into a delectable ensemble.
This recipe for Oven Roasted Pork Loin with Balsamic Fig Sauce, featuring the Grizzly Herb Rub, Fig Balsamic Vinegar, and Yin & Yang's Chinese 5 Spice Powder, promises to be a culinary masterpiece. It's a journey through flavors, techniques, and ingredients that will elevate your cooking to a whole new level.
Print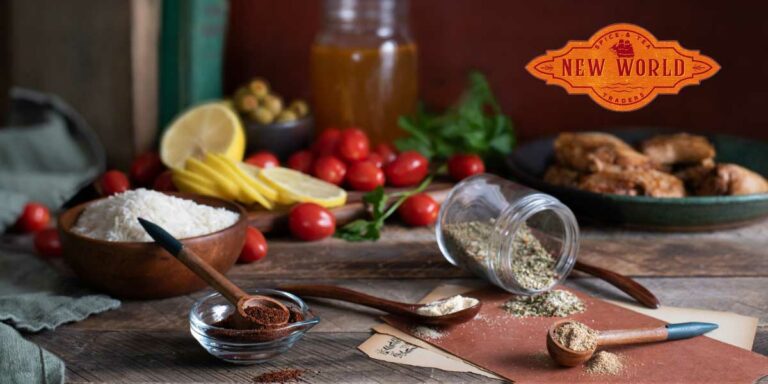 Oven Roasted Pork Loin with Balsamic Fig Sauce Recipe
For the Stuffing Mixture:
2 TBS Olive Oil

4 Large Garlic Cloves, minced

1 TBS Grizzly Herb Rub

¼ tsp Red Pepper Flakes

1 TBS Fresh Rosemary, chopped

2 TBS Thyme Leaves, chopped

4 Pieces Raw Bacon, cut into 1-inch pieces

1 TBS Lemon Juice

For the Pork Loin:
1 3 lb. Boneless Center-Cut Pork Loin Roast

1 TBS Salt

For the Fig Sauce:
Pan Drippings

¾ Cup Chicken Stock

5 TBS Fig Jam

2 TBS Fig Balsamic Vinegar

Instructions
For the Stuffing Mixture:
Add the olive oil, garlic, Grizzly Herb Rub and pepper flakes to a small nonstick skillet. Cook over medium heat, stirring frequently for about 2-3 minutes. Add the rosemary and thyme and cook 30 more seconds then remove from the heat.
Next, add the raw bacon to the food processor and blend until it becomes a smooth paste. Then add the garlic/herb mixture and blend for another 30 seconds or until the mixture is combined.
For the Pork Loin:
Adjust the oven rack to middle position and heat oven to 400˚F.
Position the roast on a cutting board with the fat side up. On one long side of the roast, insert knife one-third from bottom, and cut horizontally, stopping ¾ inch before the edge. Open up the flap as you go. Keep the knife parallel to the cutting board, cut through the thicker portion of roast about ½ inch from the bottom of roast, stopping about ¾ inch before the edge. Do not cut all the way through the meat!
Cover the loin with plastic wrap and use a meat pounder to even it out.
Sprinkle 1 tablespoon of salt over both sides of roast (½ tablespoon per side) and rub into the meat. Spread the inside of the roast with the bacon/herb/garlic mixture, leaving ¼-inch border on all sides.
Next, fold the roast back together ensuring that the fat cap is on top (there should be three layers folded together). Next, place 6 pieces of twine at 1-inch intervals under the bottom of the roast and tie it off.
Set the roast fat side up on a baking sheet lined with parchment paper and refrigerate for 1 hour.
Transfer to preheated oven to 375˚F and cook pork loin until meat registers 135˚F-140˚F degrees, about 30-40 minutes.
Remove roast from oven, tent with aluminum foil, and let it rest for 20 minutes. Reserve any pan drippings for the sauce.
Heat a bit of olive oil in a large skillet over high heat – let it get good and hot. Add the roast with the fat side down, and brown all sides except the bottom (this should only take 4 to 6 minutes.) Transfer roast to carving board and remove twine.
For the Fig Sauce:
Remove all but one tablespoon of oil from the skillet you seared the pork loin in. Add any pan drippings from the roasting sheet to the skillet. Add the chicken stock, balsamic vinegar and fig jam, and Yin and Yang's Chinese 5 Spice Powder and whisk together until simmering. Sauté for 2 minutes.
Slice the roast into ½-inch-thick slices, drizzle with the fig sauce and enjoy!